Chris feels much more confident now …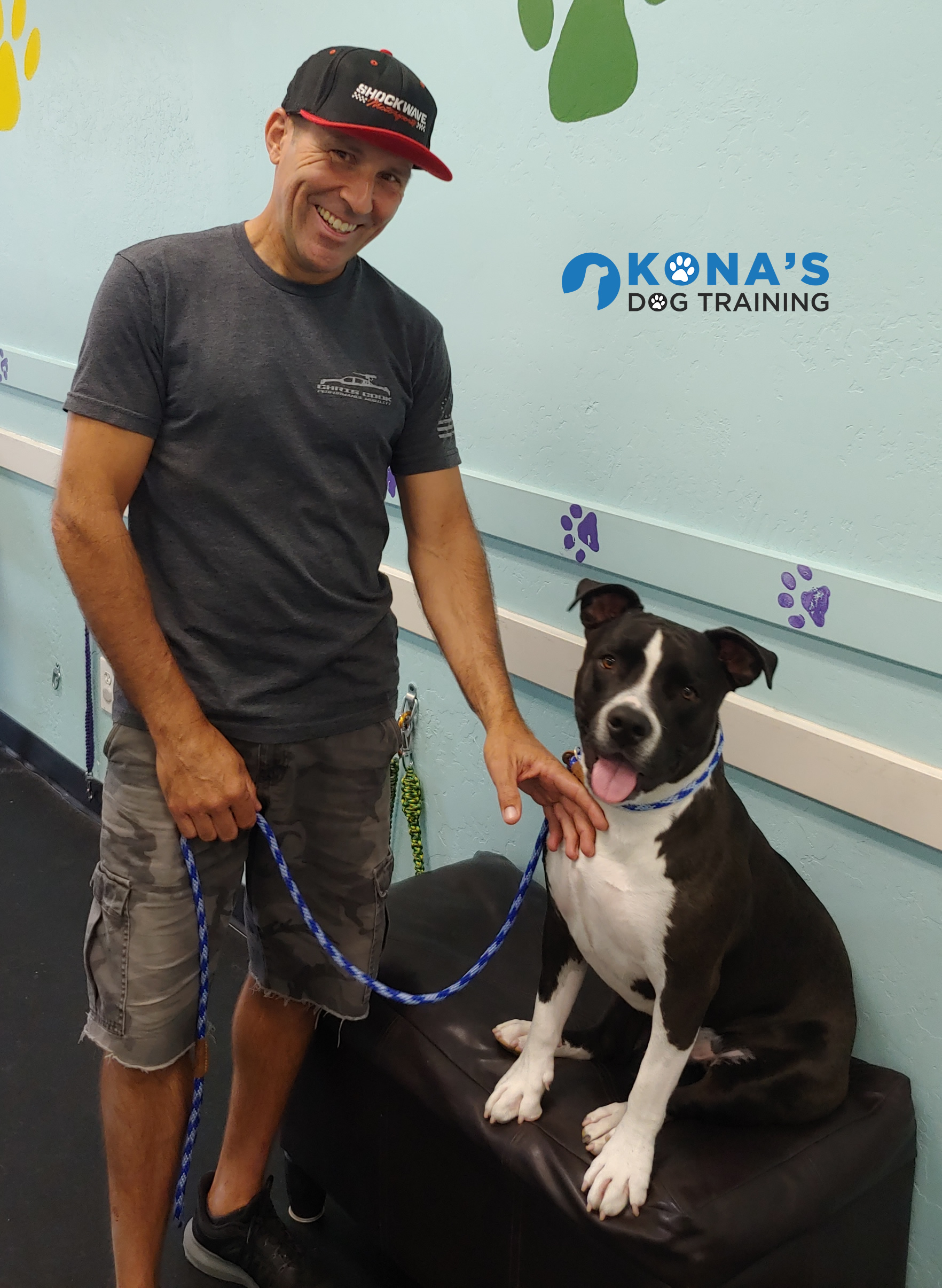 Chris from Scottsdale, AZ called us at Kona's Dog Training about his pitbull, Griffin. Chris said that Griffin was a great dog with his family and new born baby boy and that at home he listened well and enjoyed his "lap of luxury" lifestyle. Chris also talked about how he took lots of time during each day to spend with Griffin and to make sure he felt special and wanted after his baby was born, but there was one thing he couldn't get past with Griffin…his reaction to dogs while on and off leash. Chris said that it was almost like a trance and that for Griffin nothing else mattered, but getting over to "that" dog. So, we spoke for a while and we learned a lot about the dynamics of the situation and found out very quickly that it wasn't "aggression" that led to Griffin's reactions around other dogs, but his need to protect the family and Chris.
When we sat down for our initial visit, we saw so much more about why Griffin was acting the way that he was. We talked with Chris about how little changes to both training tools [which include collars and leashes] as well as how to communicate with him could lessen and then eliminate his reactions to other dogs while out in public. Chris knew then that we were the right fit to help him and Griffin work through this issue. Chris signed Griffin up for the Unlimited Program and we started the training the next week.
We helped Chris with changing simple communication with Griffin. We made sure that commands like "come", "place", "sit" and "down" where much clearer and showed him how changing these things both inside and outside the home could better Griffin's understanding and make things that much easier when he saw another dog. We also helped Chris use the tools to communicate with Griffin and that the tools should be helpful to him and Griffin, not a hindrance. Each week we saw so much progress that before both us of knew it we were going out to places that had a lot of dogs.
Chris feels much more confident now that he has the skills to help Griffin. He takes him out almost daily to allow him to watch and interact with other dogs in both his neighborhood and parks. He works with him on a short and a long leash to allow Griffin to build his confidence and understanding that other dogs aren't bad or a problem, that they are just dogs.