He has learned what he is allowed to chew on…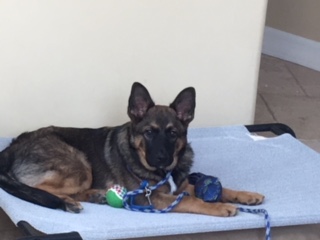 Nykia signed up Oliver, her German Shepherd & Australian Cattle Dog mix, to us because he had a lot of puppy tendencies. He would jump up on everyone including his mom and bite at her feet and pant legs.
Oliver also had trouble coming when called and had a hard time calming down. This also included problems going potty in the house. Oliver's mom signed him up for our board and train program hoping to get help stopping these behaviors.
After only a day Oliver learned how to calm down and listen better even when there were other dogs around. He learned to bite on certain things and not on others. He was also a champ at learning how to walk nicely on a leash. He also had no accidents and learned how to hold it until he was outside.
Oliver's mom couldn't be happier with his results. He now comes when called, even off leash, no longer jumps up or bites at her clothing and has learned what he is allowed to chew on. He also consistently goes potty outside instead of in the house. Oliver now has play dates with friends and is a great role model for them. Oliver and his mom can also have nice slow walks together without her worrying that he might drag her off of her feet.
This slideshow requires JavaScript.