Now he can be in "place" and when friends came over…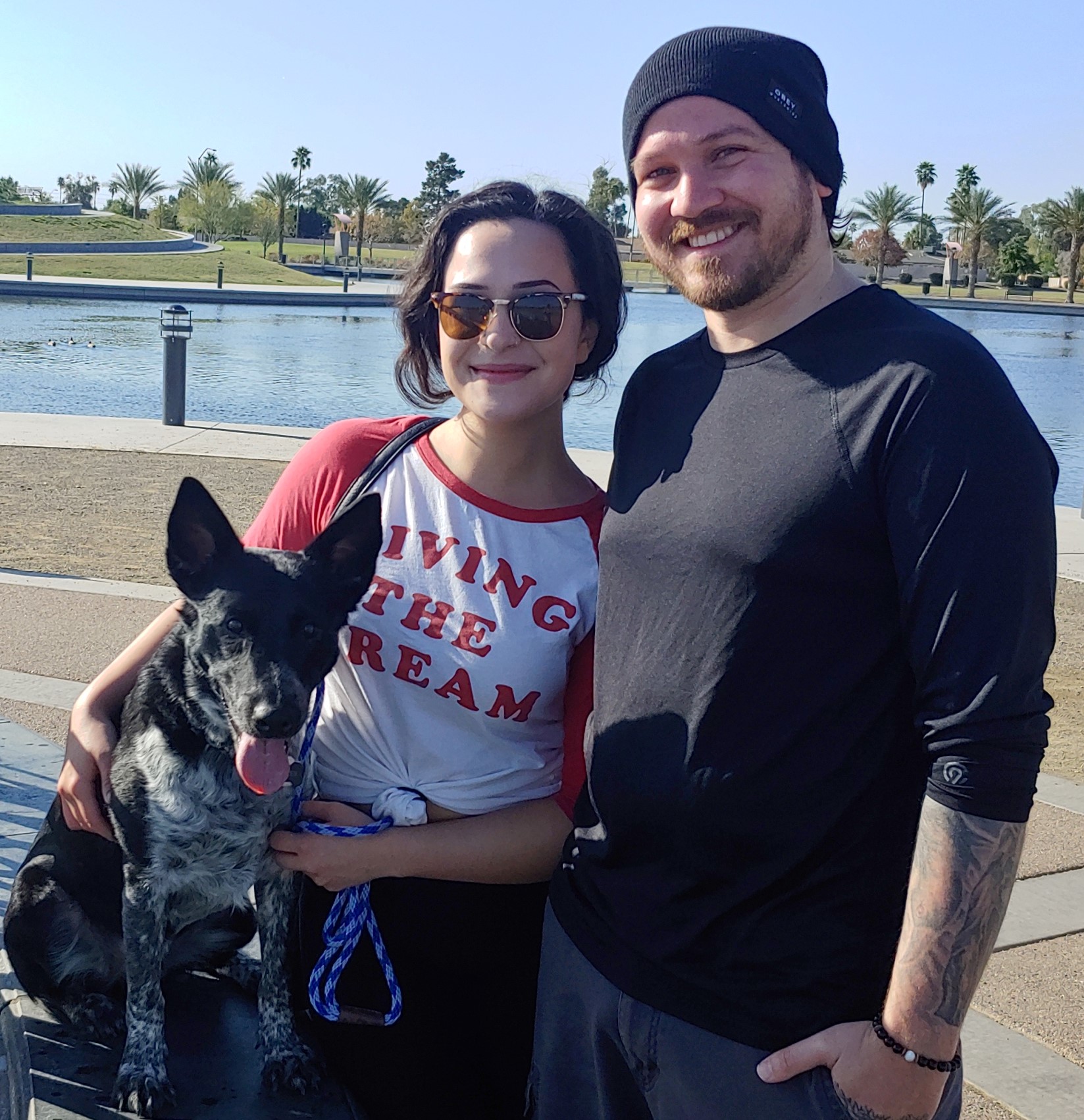 Melanie and Chris, from Mesa, AZ, called us to help them with their Blue Heeler mix, Booker, who was very scared of nearly every sight and sound in the world. After they adopted Booker they noticed that they couldn't even get him to go outside on a leash without struggling to get him through the door. He had no exposure to anything other than inside his previous home and then the kennel at the shelter. He was insecure and scared of almost everything, but worst of all he was scared and fear-biting family and friends when they came over to the house to hang out. He was even getting so bad that he started to nip at and go after Chris' hands. Melanie and Chris were at a loss as to how to help him and they needed someone to show them how to communicate with Booker. Sitting down for our initial visit, Booker was huddled underneath Melanie's chair and gave every signal to us that he didn't want to be bothered. He was very shut down, but we knew we could help.
Melanie and Chris signed Booker up for our Unlimited Program, so we could take this transition slowly. During each lesson Booker struggled with the change in leash and understanding of the commands, but after each outburst we were able to calm him down and work him through his fears to a clearer understanding that the world and the people and dogs in it weren't going to hurt him. Each lesson he grew more confident and relaxed, he was responding to commands without question or issue and he was walking on a leash without being "dragged" down the street. He was lifting his head up more and seeing the sights and sounds with a happy eye and enjoying his time with his mom and dad.
Each day brought new progress for Melanie, Chris and Booker! He was getting more comfortable with Chris and started to enjoy pets, massages and engaging in fun activities like fetch and tug. He was also relaxing so much that he could be on his "place" and in a "down" when friends came over to enjoy a game or a drink and his parents didn't have to worry that he might use his mouth. Even enjoying a nice "butt rub" now and again. Melanie, Chris and Booker are now one big happy family that enjoy being with each other in a relationship built on trust and clear communication and understanding. They are taking the world by storm!