She wasn't "aggressive", but that she was "over excited"…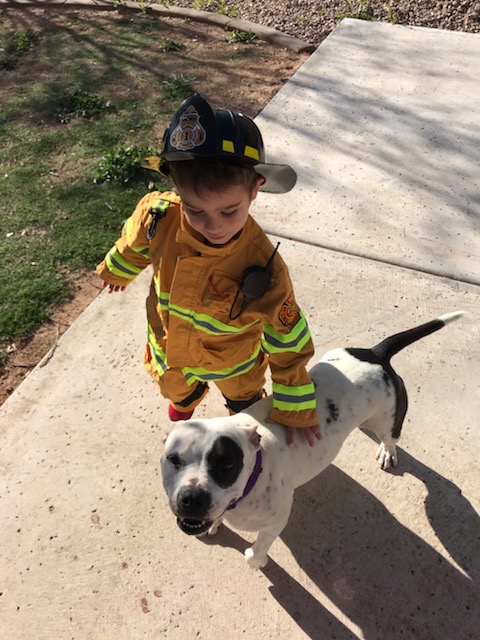 John from Tempe, AZ called Kona's Dog Training after his family adopted Hannah, a pitbull, from the Maricopa County Shelter. They loved Hannah because when she met their two small children she had the best time with them. Hannah allowed the children to play all over her and pull her ears and tail. They would run around and play without any issues from Hannah. It was as if Hannah was their newest "nanny".
After the first couple of meets the family knew she was the dog that was just right for them. That is, until they got home and took a walk in their neighborhood. Without being given much information from the shelter other than "she did ok" Hannah didn't have the best reaction to other dogs. Even when she couldn't see them through a fence, she would bark, lunge and pull at the end of the leash to try and get to the dogs she knew were there. John described it as getting his armed pulled from his socket. John had tried lots of tools, like the harness, gentle leader and even just Hannah's tag collar, with no success. That was when the family decided to find help with her training because they didn't want to give up on a dog that was so great with the family, but scary in public.
After meeting, John and the family felt we were the right fit to help with Hannah's reactions around other dogs and they signed her up for our Boarding School Program. When John dropped Hannah off on her first day, he was able to bring her inside and see the living situation Hannah would be getting comfortable in over the two week stay and as soon as we
brought her in, John was shocked by her "non-reaction" to the other dogs that were waiting politely inside of their crates.
When Hannah settled in, she was breezing through her commands. She learned "come" quickly and continued to run up to us like an excited puppy. She found her "place" to be a comfy spot where she could rest her mind and enjoy laying "down" whenever asked. The best part of all….she learned valuable social skills with the other dogs. We found that Hannah wasn't "aggressive", but that she was "over excited" around other dogs and had
learned skills that seemed rude to other dogs. Before she headed home, Hannah changed all of that. She learned how to understand dog to dog play and when it's appropriate to be energized and excited and when it was time to be calm and casual.
John was so happy to have Hannah home because his kids had missed her so much and the best thing of all was how much better she listened and how much calmer she was during the times when the family couldn't involve her in family activities. They even wondered if she was the same dog they had left. Hannah now walks very well on a leash and the family gets to enjoy evenings going around the neighborhood spending that calm, quality time together with Hannah nicely by their side.