Their relationship couldn't be better…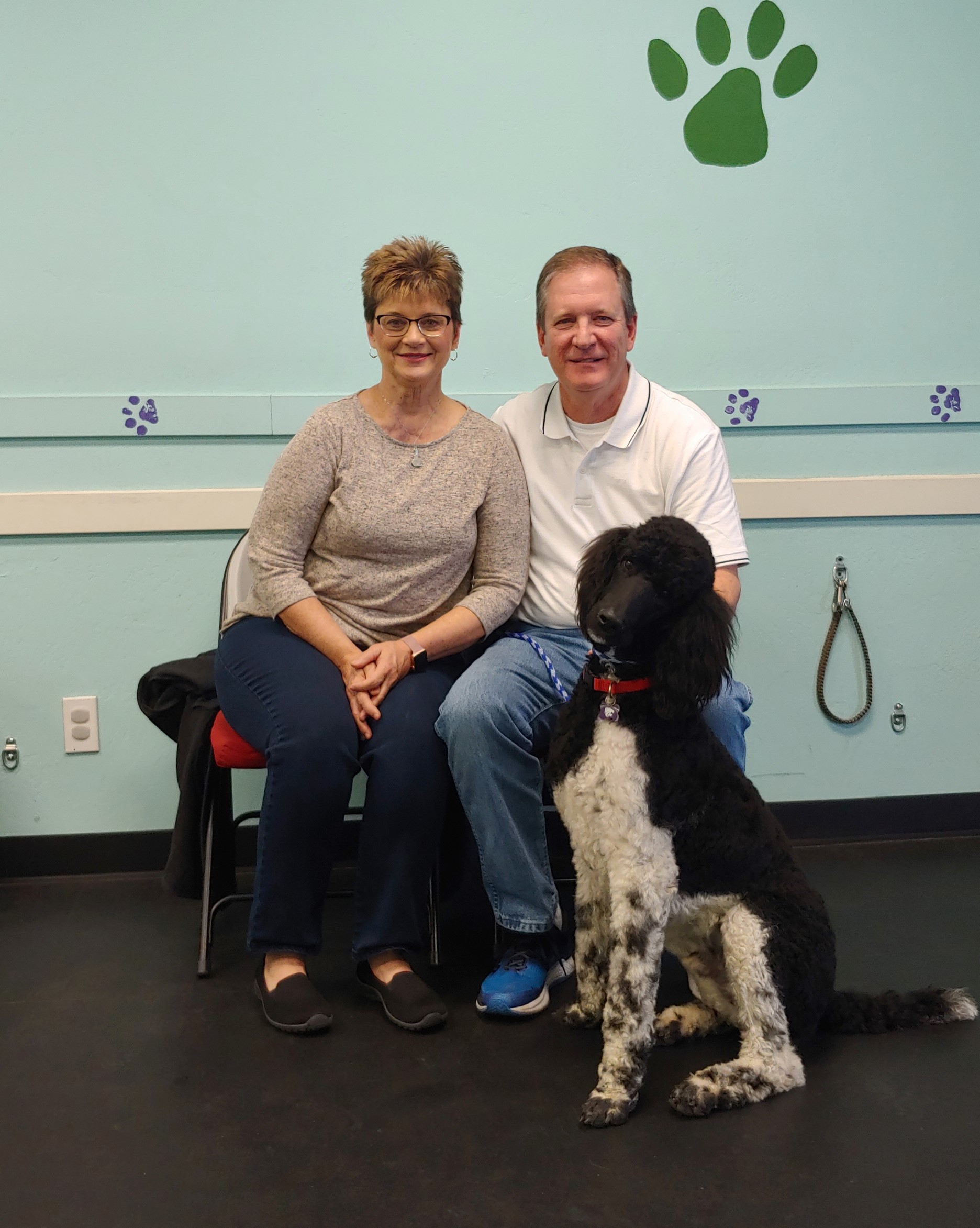 Karen, from Mesa, AZ called us to see if Bodhi, her 8 month old standard poodle would be a good candidate for work as her service dog. We scheduled a visit to talk everything over and see if he might have the personality for service work. Well, when they arrived I questioned Bodhi's age almost immediately since he was a very calm, relaxed and well- mannered poodle who sat next to Karen almost the entire time we talked.
Bodhi was curious, but not over excited about the facility and he engaged with me when I encouraged interaction. Karen and I talked for a while and I then found out that she was having some trouble with him while on leash and coming when called. Bodhi was too happy to see people out on walks and would pull slightly on leash. While his pulling was not what most people were used to it was hard on Karen, whose health isn't the greatest. Bodhi also listened sporadically inside the home, not listening to commands regularly.
Karen decided to sign Bodhi up for our Unlimited Program as well as having him stay with us for boarding while she traveled back to Kansas. We knew to even consider service work, we would have to get his excitement in public down and get him to listen consistently in all types of environments. Karen was so happy to get the guidance she needed to work with Bodhi. She practiced every day and constantly came back to lessons sharing her progress.
Bodhi started to walk much nicer on leash only after a few days of our first lesson and would consistently come when called after the third. Karen loves spending her days interacting with Bodhi and building their relationship. Service work is just around the corner.
Karen has even moved one step further with Bodhi's training, working him with an electronic collar to get long distance coming when called better. Karen wants Bodhi to have the freedom of all the acres she has in Kansas, but with the reliability of knowing that even when he can't hear her that he should still "check in" when the collar is used. This way she doesn't have to worry about Bodhi getting lost or not listening. He responds to her using the collar every time now, even at close to a half of a mile away. Their relationship couldn't be better and Karen is so happy knowing that Bodhi will one day soon be her very own helper.