Now we feel relaxed going into public situations…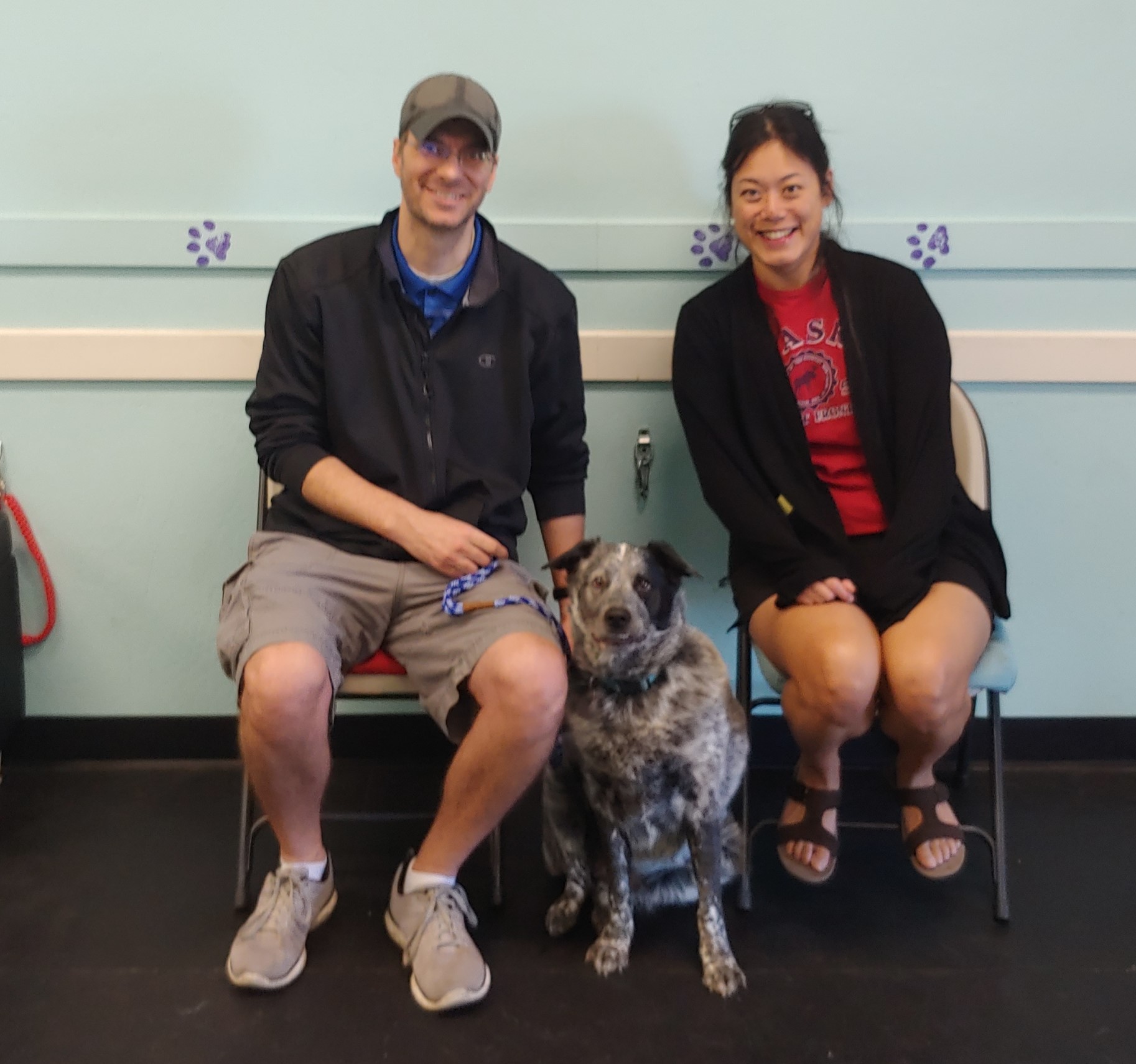 Mark and Jessica, from Gilbert, AZ, first contacted us because their dog, Bandit, a Blue Heeler/Cattle Dog mix, was having trouble being comfortable around family members and strangers alike. When they brought Bandit in for our initial visit, it was easy to tell that he was uncomfortable around us in a new environment and that he was unable to relax. They told us that they had gone through another training company that taught them general
obedience, but gave punishment to the dog when he acted out. Mark and Jessica were very uncomfortable being that hard on Bandit and felt they needed to find another trainer who was able to help them understand Bandit better. After talking about all of the details of each program, they signed Bandit up for our Boarding School Program.
Mark and Jessica dropped Bandit off with a bit of hesitation because they knew this would be difficult for Bandit. Any change in his environment meant that he might react in a negative way, but as soon as they walked him out of the car, we took care to make Bandit feel as at home as possible before they left.
During the first few days of training, it took some time to build Bandit's trust, but he still didn't lash out like he did at the previous trainer's program. He never attempted to bite, lunge at or harm us. After the first few days of guiding, trust building and clear communication, Bandit happily fell right into place. He began walking better on a leash, listened to commands better and often requested to engage in training with us. We took him to many parks, doggie daycares and dog allowed locations so he was able to calmly and politely watch and interact with strangers and other dogs as they went along their day. He even began to feel comfortable enough to freely take treats and rewards from people as they passed by. He even was able to better listen to commands, like "place", "sit" and "down" in public as well. He would also look to us for guidance about any situation he was unsure how to handle, so he reacted less and enjoyed more.
After Mark and Jessica picked up Bandit, they immediately saw a different dog than the one they had dropped off. He was bubbly and happy to see them, he would respond to their commands better and they didn't have to repeat themselves or get frustrated for him to listen. They were even able to feel relaxed going into public situations because they learned how to understand Bandit's small cue for when he might be feeling uncomfortable, so they could help him before he reached near a boiling point. Now they feel safe, comfortable and natural when they take their family companion around to new and exciting locations.