Now Greta listens to everyone…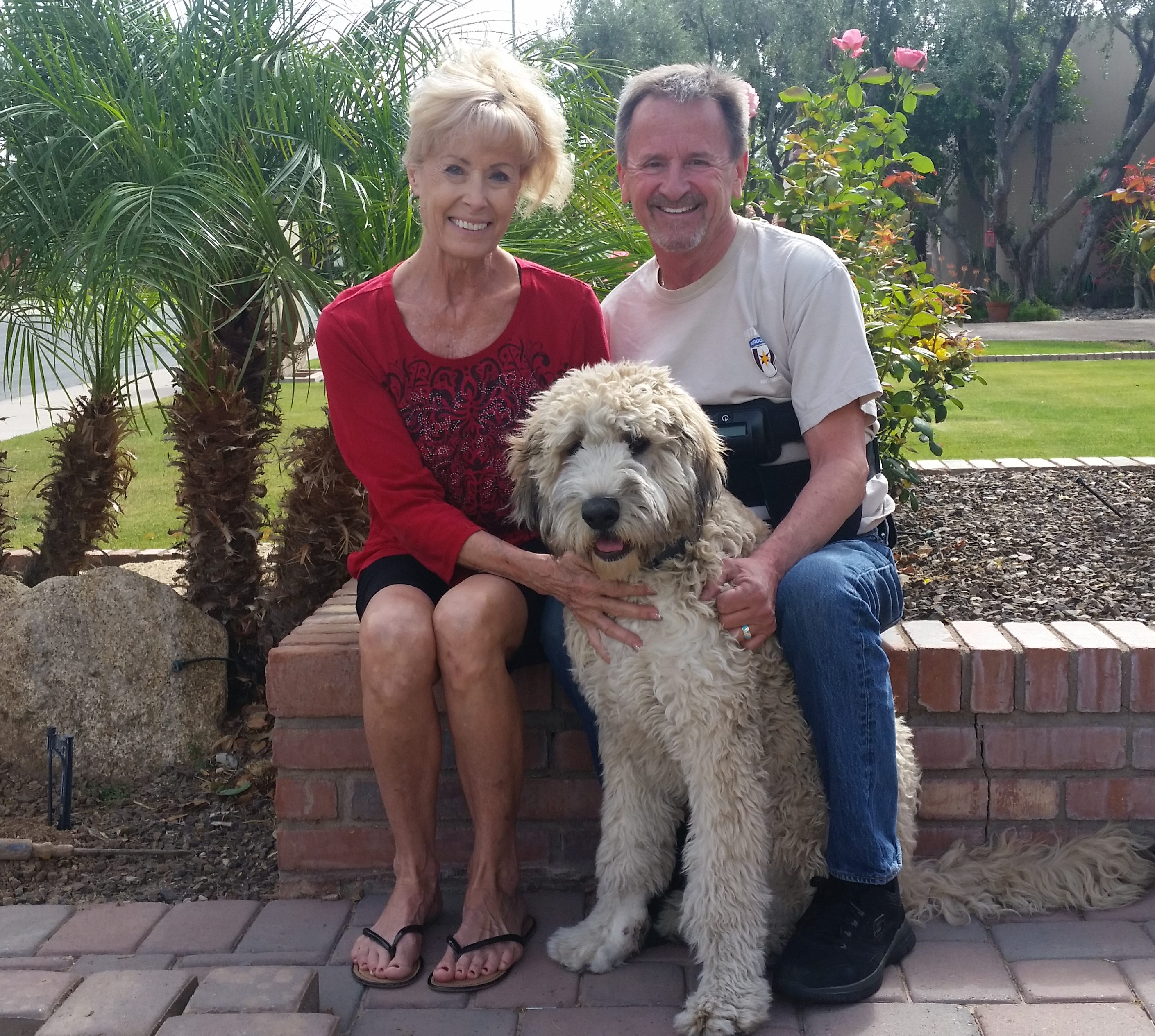 Gary and Sherry, from Chandler, AZ, signed up Greta, their Saint Bernard/Poodle mix puppy after realizing that she might be a little more than they could handle on their own. Greta was a gift from their daughters who thought their mom and dad could use the extra company. Greta was only ten weeks old when Gary and Sherry got her and she was without a doubt the cutest little curl fluff ball ever, but it became very clear that she might not be the best with their other two dogs in the home. They already had two, yes two one eyed Chihuahuas who weren't, let's say, the friendliest to new comers. That's when they knew they needed to look for help, and help they found.
After our first meeting, Gary and Sherry immediately signed up Greta for our Unlimited Program, where weekly visits would build up their confidence and Greta's manners to be the best dog.

We started the puppy training right away! They learned how to teach her basic obedience, which included "sit", "down", "come", "place" and "let's go" [a nice leash walking]. Not only that, Greta learned how to interact with her new house mates; how to greet them, how to play with them and most importantly how to learn when it was too much. Greta is now becoming a model citizen and even teaching the Chihuahuas a few manners. She is also learning how to walk at Gary's new pace since he had back surgery, so they can still enjoy the time together without worrying about possibly injuring him. She is a calm and happy dog who loves to play tug just as much as she loves to lie down and enjoy a good movie.
This is what Gary and Sherry had to say:
"My adult children surprised me with an 8 week 13lb Saint Berdooodle, for my 66thbirthday. I named her Greta. She is now 7 months old and 75 ibs. Several months ago I found Kona's Dog Training, to work with this Puppy , myself, and my wife.

Gabby the trainer, has been the most patient and skilled dog trainer one could find. One of her very best qualities has been her patience and training of me. It turns out I needed as much training as Greta. She has taught me so much more about dogs then one could imagine. Gabby is very professional and personable. Very good at working out scheduling and planning. I can say only good things about her skills. Very Grateful that we found her. Highly recommend her for anyone that needs dog trainer."
Gary and Sherry are very happy that they no longer have to worry about what might happen because they know what will happen. Greta listens to everyone and enjoys her days just spending time with her extended family.