Chase Excelled at School…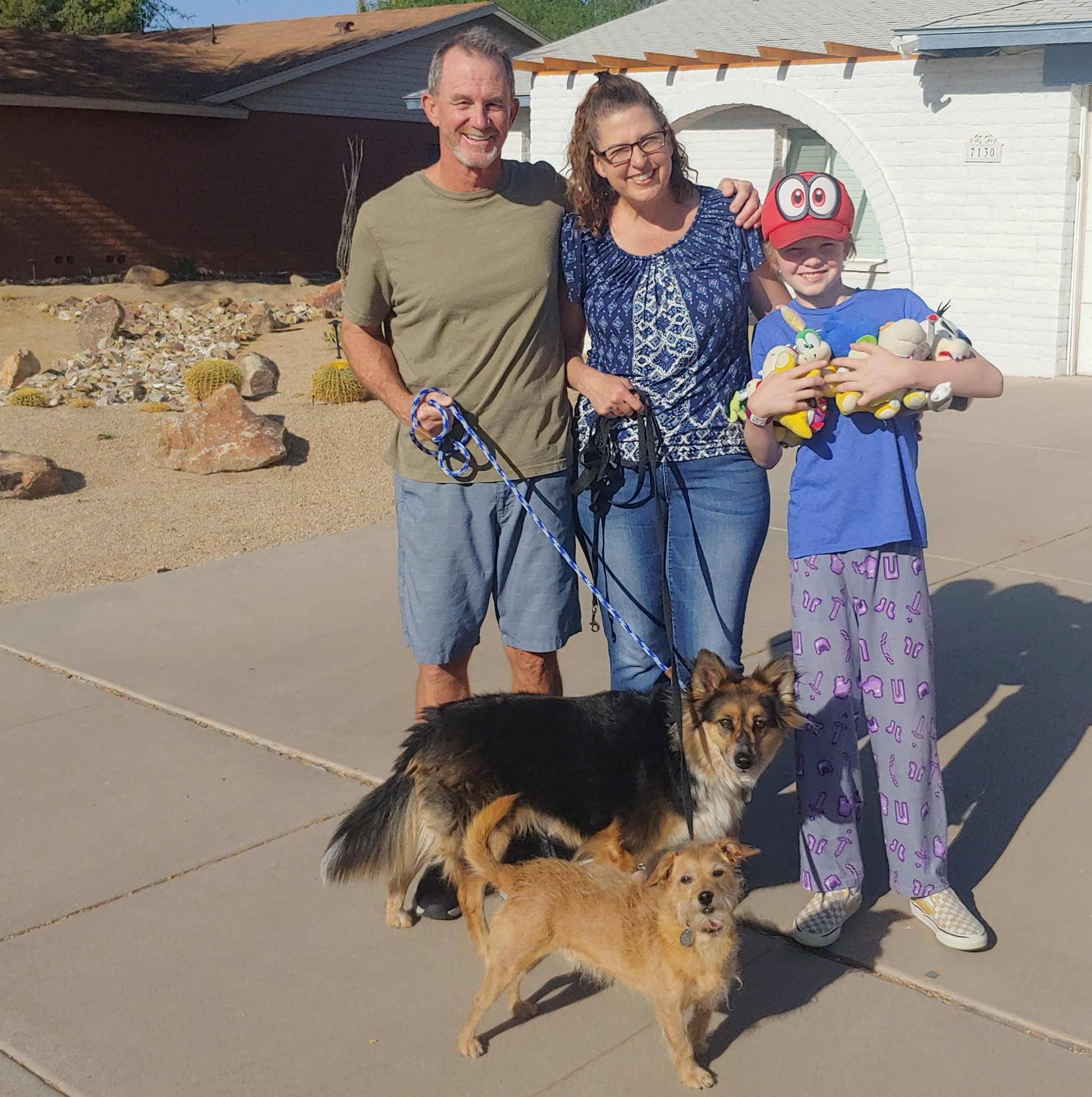 Jackie and Tim, from Tempe, AZ called Kona's Dog Training because their wire haired terrier, Chase, was "driving them crazy". They explained that they got Chase as a rescue and had hoped that he would fit in with their young son and Border Collie, Skye, but it was far from ideal. They explained that Chase was marking all over the house and would bark constantly at the golf carts and repair equipment on the golf course that they live right in front of. They also said that he was very timid and fearful on leash while on neighborhood walks. He would pull on the leash to get back into the house and didn't like being around other dogs when walking. They felt they were at a loss for how to handle Chase and were looking for a Boarding Training program and we had just the right fit.
When we all first met, it was just minutes before Jackie fell in love and signed Chase up for our Boarding School program. When Chase was dropped off for the program he was very scared and uncomfortable. He didn't like to be touched and didn't want to interact with any of the dogs that were here. At times he got so uncomfortable that he would show his teeth and growl in warning that he was not happy. Each day we progressed at Chase's pace, going as slow or as fast as he would let us and by the end of the third day, Chase had warmed up to us [especially my mother] and was off leash around the other dogs. Working Chase each day allowed him to build trust and understanding that we were here to help, not harm. After the initial days, Chase excelled at school. He learned to walk on leash out and around town where he would see and watch other people and dogs. He learned how to be comfortable around things that scared him, including drains, cars and other people and dogs. Chase also learned commands like "come", "place", "let's go" and "down".
During Chase's going home lesson Jackie and Tim couldn't believe how much better Chase was. He would listen to them and stay until they allowed him to move. He could stay in a command while the door was wide open and no longer barked when people passed by. They loved that they could walk him on a leash without struggling and that he was so much more comfortable just lying down and watching things happen rather than being involved in them. We noticed during each lesson that Chase was calmer and more relaxed no matter what kind of object or distraction was around. Now he is more open to play instead of being fearful and he is enjoying his family like a dog should.
We often see Chase, as he is more than welcome to board with us because dogs who train with us can stay with us. Each time he stays Chase continues to blossom and build his confidence and social skills.